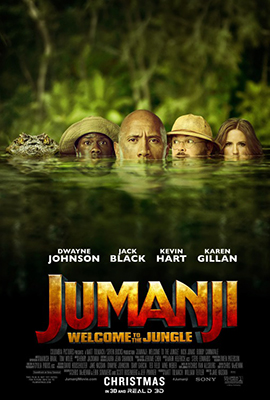 Pre Release Survey

- Take Now!
Anticipation Level: 2.88
Predicted Gross: 36-40 mil.



Starring:

Dwayne Johnson, Karen Gillan, Rhys Darby, Kevin Hart, Jack Black



Synopsis:

Four teenagers are sucked into Jumanji's world - pitted against rhinos, black mambas and an endless variety of jungle traps and puzzles. To survive, they'll play as characters from the game: meek Spencer becomes a stupid and girl crazy jock (Johnson); football jock Fridge becomes a tiny Einstein (Hart); It-girl Bethany becomes a bookworm professor (Black); and unathletic Martha becomes an amazonian warrior (Gillan). To beat the game and return to the Planet Earth with their lives, they'll have to start seeing things in an entirely different way.

*Anticipation level and predicted gross are determined by taking the averages of all Pre Release Surveys completed by participating members. Anticipation level is measured on a scale from 1 to 5.
Movie Links
imdb.com
Trailer
traileraddict.com